The video player is an essential and basic program for any device you have, and today with devices such as Chromecast or AppleTV we can play movies on TV from our computer.
But do you have Windows 10 installed and you don't know which video player to use? Don't worry, in this post, we will recommend you the 21 best media players for Windows 10 to check out.
This program is widely used among users with Windows 10. That being with the codecs and the packs that had to be installed has ended thanks to VLC Media Player.
Pros:
100% free.
Capable of playing all kinds of formats.
Compatible with Windows, Mac, and Linux.
It has an app for both Android and iOS.
It is an all-in-1 video player.
Cons:
Its interface is not customizable.
Another cross-platform application is KMPlayer. Another video player compatible with most multimedia formats, both physical (CD or DVD) and digital. A program that works with the installation of codec packages.
Pros:
It has a 32-bit and 64-bit version for Windows 10.
Play 4K and 8K videos.
It also plays 3D videos.
It recognizes practically all current video formats.
It supports different languages.
Cons:
Downloading files sometimes can be a bit slow.
Perhaps this is one of those lesser-known shows. Compatible with a large number of files (MPEG-2, MPEG-4, H.264, MKV, WebM, WMV, etc) it also has the hardware acceleration function to improve playback.
Pros:
Play all kinds of video files.
You do not need to install additional codecs.
It also supports 3D videos.
It has all kinds of effects for video and audio.
Access subtitle tools, bookmarks, previews, etc.
Cons:
Some features are not on had and can be hard to find.
This is a simple and easy-to-use player. It is free, simple, and without advertising, and its interface is not complicated to understand. It will play your songs and videos.
Pros:
Play virtually any media file.
It is free, basic, and easy to use.
Works great on slow computers.
It is intuitive and with a very clear and simple interface.
It is customizable with skins and toolbars.
Cons:
It may have problems playing newer formats.
This is another application for Windows 10 that allows local video playback of the main formats but also offers the possibility of downloading videos from different web pages that offer access to the most popular services.
Pros:
Plays a wide number of formats.
It includes the AirPlay function that allows users to stream media from Apple devices to their PC.
It allows you to view high-definition videos with 4K or 5K quality.
Compatible with Windows 10, Mac, and mobile devices.
You can download media content.
Cons:
This is a free and open-source video player for Windows 10 that supports the most popular file types such as MPEG-2, MPEG-4, H.264, MKV, WebM, WMV, MP3, etc.
Pros:
It is customizable.
Supports more than 270 audio and video formats.
Add subtitles.
Create, edit and save playlists.
Offers Stream SHOUTcast internet radio function.
Cons:
This is a multimedia player in which we can view files with the most common video and audio extensions, such as MP4, AVI, MKV, MOV, FLV, Windows Media Video, etc.
Pros:
Play VR 360º videos.
Compatible with all versions of Windows.
It has an app for iOS and Android.
It has an extensive library of subtitles.
You can customize its interface.
Cons:
To watch high-quality videos you have to pay.
Unlike other applications, ACG Player is a Windows-only video player. You can download it from the Microsoft Store. We can install it on different devices with Microsoft's operating system, including phones with Windows Mobile or even on Xbox and HoloLens.
Pros:
It is compatible with most codecs.
Is free.
Very simple and easy to use interface.
It is lightweight.
Allows you to customize it.
Cons:
This program offers many options: equalizer, filters, media reader, content streaming and integration with YouTube, and a lot more. However, SMPlayer is not perfect either: an improved look of the interface would not hurt, for example.
Pros:
Play all formats.
Support for YouTube.
Free and open source.
Multiplatform and compatible with Windows and Linux.
It is available in 30 different languages.
Cons:
For some users, it is a very basic program.
Another application on the list is RealPlayer. A classic in Windows that allows you to play almost any type of file that we have on our computer. Another free player that, for those looking for more features, also offers a paid version.
Pros:
Supports most formats.
It allows you to download videos and play offline.
Play your videos on TV with Chromecast.
It has an app for iPhone and Android.
The interface is simple and intuitive.
Cons:
To access more features and remove advertising, you have to pay.
Many people have a music collection on their computer. It can be big or small, it does not matter, with MediaMonkey, a free application there will be no problems when organizing all the stored files. It works with both audio files and playlists and videos.
Pros:
It is available to add plugins to enhance its functions.
You can improve their appearance.
Allows connectivity with iPad.
Compatible with audio and video formats.
It organizes your audio files and eliminates duplicate ones.
Cons:
It can have some sync problems with devices.
A powerful application that is also multiplatform and that is also open source. Kodi "eats" almost any video and audio format you want to play and doesn't need us to install external packages.
Pros:
It presents a very clean interface.
It has an extensive list of tools.
It has an add-on system to maximize its use.
Play videos, listen to the radio, access files in the cloud, connect to YouTube, watch television, etc.
Cons:
It does not offer customer support.
Many people think that this video player only works to play a very specific format. The truth is that it supports a wide variety of video formats. DivX Player is specially designed to play HEVC videos as well as HD videos.
Pros:
Media server for devices with DLNA support.
Create playlists.
A multitude of options for audio playback.
Play 4K videos.
It can convert video formats into other formats.
Cons:
It sometimes does not work smoothly.
CnX Media Player is a 4K HDR video player for Windows 10. It supports a large number of codecs and is capable of playing a large number of formats, among which are the most popular such as MP4, MKV, TS, MOV, FLV, etc. It has a clear and clean user interface with easy-to-use controls and gestures that will make our viewing experience even more enjoyable.
Pros:
It is capable of playing streaming videos.
It supports a wide variety of subtitles in various languages.
Play 4K and HD video.
Supports many formats.
Simple interface.
Cons:
It does not offer a free trial before purchase.
Xplayer is a video player that stands out for being a fast, agile, and light tool, allowing us to play a large number of video files from RealMedia to DivX. At just half a mega in size, this powerful player supports multiple languages. It has a very simple and easy-to-use user interface so that it can be used by all types of users.
Pros:
Allows video effects.
Allows network transmission via URL.
You can turn the subtitle tracks on and off.
Allows you to take screenshots.
It offers hotkeys to access its functions.
Cons: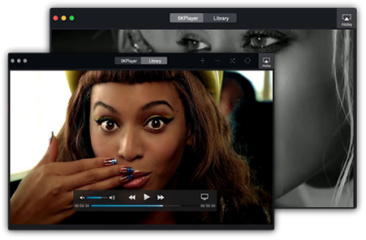 Any Player is a completely free video and DVD player that we can use to watch videos, as well as movies and series since it allows us to play any type of multimedia format. It has a clear and simple interface with a touch and a certain similarity to VLC, it also does not contain any type of advertising so that we can enjoy its content without annoying ads.
Pros:
Free and easy to use.
Supports different formats for audio and video.
Allows you to create and edit playlists.
It can be used on iOS and Android devices.
Offers API options for added security.
Cons:
It is new, they are improving the software.
ALLPlayer is a multimedia player that stands out for a really neat and minimalist interface that is very easy to use. It is compatible with a multitude of formats, it also plays files with rare formats and streaming. It also can automatically search for subtitles in all languages, connecting to the Open Subtitles Database to download the necessary files for the movie we are watching, if they are available.
Pros:
It has dozens of Internet radio stations.
It offers subtitles for movies.
Adjusts the speed of the subtitles.
It allows to shut down the PC automatically after the playback.
Play audio CDs, video DVDs, and RAR files without decoders.
Cons:
Some of its subtitles are not yet translated.
Media Player is an amazing multimedia player with video configurations that offer great compatibility with more than 220 codecs, including HEVC, FLV, MP3, FLAC, ALAC, MPG, VOB, QuickTime, MOV formats, as well as DVD, CD, and disc files. Bluray. We can add our favorite content to playlists, as well as create and edit them by adjusting the equalizer or inserting subtitles.
Pros:
It allows listening to the radio.
Play YouTube content.
Listen to SoundCloud.
View TV channels.
It has a volume booster of up to 200%.
Cons:
Sometimes it does not want to install some codecs.
Winamp has risen from the dead and it seems that this "zombie player" will remain with us for a longer time since it was a very popular player a few decades ago, perhaps one of the most used and known and continues to develop.
Pros:
Offers a large amount of equalization.
It offers information about the songs you play.
Ability to create your favorite playlists.
It offers great flexibility to configure its interface.
It is safe, easy to use, and free.
Cons:
A good alternative for Winamp is BSPlayer, only that it also allows you to play video. In this case, we have two download options, a more limited and free version and a paid PRO version that we can also purchase from the official website.
Pros:
Allows you to download and install codecs separately.
Its interface is customizable.
Allows you to download other plugins to add more functions to the base program.
Play audio and video.
Cons:
For advanced features, you have to pay.
21.- Cyberlink PowerDVD – Media Players for Windows 10
Cyberlink is a well-known software firm that has some well-known programs. We also have a paid version of a player called Cyberlink PowerDVD. Perhaps being paid is not to the liking of many and you prefer the previous free alternatives, but if you are looking for a paid program that is interesting, perhaps this is one of the most interesting paid players you can find.
Pros:
Play music and video of different formats.
It offers an easy-to-use interface.
Play DVDs and Blu-rays.
Offer customer support.
You can customize its functions and appearance.
Cons:
It does not offer a free trial.