1. ACDSee Ultimate – Image Viewer Apps for Windows 10
ACDSee Ultimate is software that can locate duplicate images from several locations and files. You can get pictures saved on cloud storage apps like OneDrive or DropBox.
ACDSee continues to expand its software, and it now has Photoshop-like layer editing capabilities. Some of the program's instruments, such as its Light EQ adjusters, are especially fine. It's also one of the faster picture workflow apps, but it still falls short of its top competitors in initial raw camera file conversion efficiency, correction effectiveness, and interface usability.
PROS
Complete set of image editing tools.
Good performance.
CONS
The Lens-profile-based image correction tools are less effective than the competition.
Weak noise and chromatic aberration tools.
Microsoft Photos, the free photo viewer and editor included with Windows 10, provides professional image editing and photo improvements along with software for organizing and editing images, all in a touch-friendly GUI.
PROS
Simple, touch-friendly interface
Face and object detection
CONS
Panorama stitching and limited focus are not supported.
There is no chromatic aberration correction or geometry correction.
Adobe Photoshop Elements is a photo editing, development, management, and sharing program. With only one mouse press, you can add motion to your static pictures.
Photoshop Elements introduces a lot of the visual magic that Adobe Photoshop invented to non-professional users.
PROS
Many powerful image-manipulation tools
Helpful guidance for advanced techniques
CONS
No chromatic aberration correction or lens geometry profiles
Too few social sharing options
Movavi Photo Manager is a Windows application that allows users to control their digital photo collections. It will enable you to enhance individual or multiple images by editing them. You can also use the program to flip, crop, rotate, and resize the image.
Movavi Photo Manager comes with a wide range of editing tools in addition to its great organizing features, allowing you to make transformational adjustments to your photos to make them more eye-catching.
PROS
Generates albums automatically based on date and place
Allows backup copies to be created and stored
CONS
There isn't a smartphone version
It's just for Windows.
Apowersoft Photo Viewer is a cloud-based photo viewer that is free to use. It accepts a variety of image formats, including PNG, BMP, and JPG. This app has a feature that allows you to process images in batches.
Apowersoft Photo Viewer provides the best image viewing experience with its user-friendly interface and powerful functions. It uses cutting-edge computing technology to allow you to see a picture as soon as you press it.
PROS
Apowersoft Photo Viewer is compatible with a wide range of image formats and PDF files.
It can also view HEIC/HEIF files directly on Windows.
CONS
No other functionality
No ability to customize the interface
When you have thousands of pictures on your computer, sorting through them can be a nightmare. You'll need software that can view your images in a gallery format.
123 Photo Viewer is an application with a straightforward user interface. This application supports different file formats, including.bmp,.gif,.jpg,.jpeg, and several others.
PROS
Ease of Use
Simple Interface
CONS
No other functionality
No ability to customize the interface
ImageGlass is a simple, lightweight image viewer with a good range of compatible formats, a friendly user interface, and a feature set covering all of your daily requirements.
ImageGlass has a beautiful design, with a blank main window and an icon-based toolbar. We tapped the Open File button about halfway down the toolbar and browsed to a JPEG picture in our folder. We could rotate the image right or left, zoom in and out, and scale the image to the screen or the screen to the image all from the toolbar.
PROS
Animated GIF files (whether transparent or not) play smoothly even when zoomed in and out.
You can use the compact version if you don't want to or can't install ImageGlass.
CONS
The Animated Portable Network Graphic (APNG) format is not yet supported. And it's a disadvantage to think about.
Irfanview and XnView have image manipulation and batch processing capabilities, but this software does not. If you're a power user, this would be the most significant disadvantage of this program.
In recent versions, the jAlbum interface has been greatly improved, and it is now a clean, flat slate for exploring your photos and quickly choosing the ones you want to include in your album. Once you've downloaded your images, you can rearrange them, delete the ones you don't like, add captions, and do various other things to make the most of them. jAlbum also comes with a simple collection of editing software.
Pros
From various models and design layouts, there are a lot of customizable features. Support is still available, and updates are kept up to date with new web developments. You get unrestricted access for a one-time fee.
Various options for uploading/viewing
Cons
Advanced packages with multiple images are not supported.
There aren't a lot of choices for sharing.
HoneyView is a free picture viewer that can be carried around with you. This apps is compatible with Windows 7, 8, and 10. It can be used to batch convert photo formats with resizing.
The app is well-designed to support all of the primary image formats effectively. This software can also be used to display file formats such as JPG, PNG, GIF, PSD, and BMP. It is a very useful application that allows you to rotate images, resize them to different dimensions, and edit them instantly.
Pros:
This Windows 10 picture viewer software helps you view files in a RAR or ZIP folder without having to unzip it.
GIF, JPG, BMP, PNG, and other image formats are supported.
Cons:
It does not save bookmarks on the USB drive.
it does not allow password-protected archives.
Using shared albums, Google Images helps you to share photos with friends and family. It is one of the best Windows 10 picture viewers, enabling you to store more memories.
Pros:
With this picture viewer for Windows 10, you can back up an infinite number of pictures, images, and videos, up to 16MP, for free.
Organize your images by the people, locations, and things that matter to you.
Cons:
No built-in Instagram or Flickr sharing
Free accounts are no longer available indefinitely.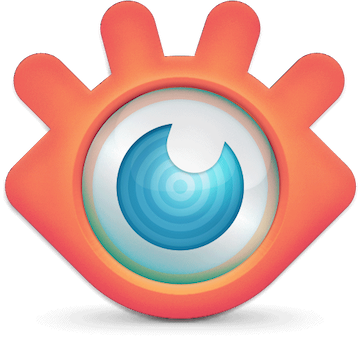 XnView is a free image viewer that allows users to open and edit images quickly. This Windows picture viewer supports JPEG, TIFF (Tagged Image File Format), PNG, PSD (Photoshop Document), GIF, and other image formats.
XnView comes with all of the tools you'll need to view, organize, and edit your images, all in a simple and easy-to-use GUI. This app will assist you in accomplishing your goals quickly and efficiently, whether you're arranging images from your recent vacation or creating a slideshow for work.
Pros:
You can change the image's color, resize it, and crop it.
Compatible with both cell phones and computers.
Cons:
Doesn't show movies in the correct orientation on the phone – Doesn't pan/zoom fluidly with the touchscreen.
For Windows users, IrfanView is a small and free image viewer. It supports several languages. Thumbnail is a program that allows you to preview pictures.
It is, after all, a full-featured photo viewer program for the Windows 10 operating system. The software is free to download and offers a variety of exclusive features to consumers. A screenshot utility, for example, can capture images using the mouse cursor. Not only that, but it also supports OCR and has a few advanced photo editing tools.
Pros:
This Windows 10 picture viewer allows for multiple undo moves.
This tool can extract text from images using OCR and export it in an editable format.
Cons:
GIF viewing has long had issues with flickering, inaccurate framerates, and artifacts, and it's unlikely that they'll be resolved any time soon.
When you open an image, the alpha is converted to the chosen background color. You can choose a color that is converted to an alpha again when you save the picture again.
13. GonVisor – Image Viewer Apps for Windows 10
GonVisor is a free Microsoft Windows-based sequential image viewer. It enables the display of images in a comic book or magazine format.
GonVisor is a multi-format viewer for Windows systems that supports electronic images, comics, manga, magazines, and books. It's made for viewing image sequences comfortably, as well as creating, opening, and managing files such as CBR, cbz, cba, cb7, zip, rar, ace, and 7zip. GonVisor helps you to create an album by combining an infinite number of images into a single file. An access password can be used to secure these files.
Pros:
This program supports various languages, including Brazilian, Dutch, English, French, and German.
Sort photos and add a summary with this Windows 10 picture viewer.
Cons:
Its image enhancement capabilities are minimal.
Easy to use interface
FastStone Image Viewer is a Windows 10 image viewer. It can handle different types of image formats. You can display images in several ways with this app, including full screen, thumbnails, and more.
Despite its name, FastStone Image Viewer is far more than an image viewer. It's also capable of an extensive range of editing features, all of which are wrapped up in a unique user interface. It's not a Photoshop substitute, but it's a decent option for viewing images and performing simple editing and correction tasks.
Pros:
FastStone provides easy access to EXIF (Exchangeable Image File Format) data.
This tool includes a high-definition magnifier and a musical slideshow with a variety of transactional effects.
Cons:
No full-screen drag-and-drop from outside FastStone
Does not recognize.webp images.